Experience the ultimate vaping journey at Hollywood Vape, the leading vape shop in New Zealand. As a proudly New Zealand-owned and operated establishment, we are dedicated to supplying our fellow Kiwis with the finest vape products, including Hollywood Vape E-liquids, crafted with pride in the USA. Our mission is to cater to the discerning tastes of the vaping community by providing top-tier vape juice, vape kits, and an extensive range of vaping products, all made with excellence in mind.
At Hollywood Vape, we take pride in offering premium E-liquids made in the USA, ensuring that each puff you take delivers a taste of authentic Hollywood glamour. Our expert team is committed to producing E-liquids that meet the highest standards of quality, flavor, and safety. Recognizing that vaping preferences differ, we offer a wide selection of E-liquid flavor profiles to cater to every palate, from classic and traditional to unique and exotic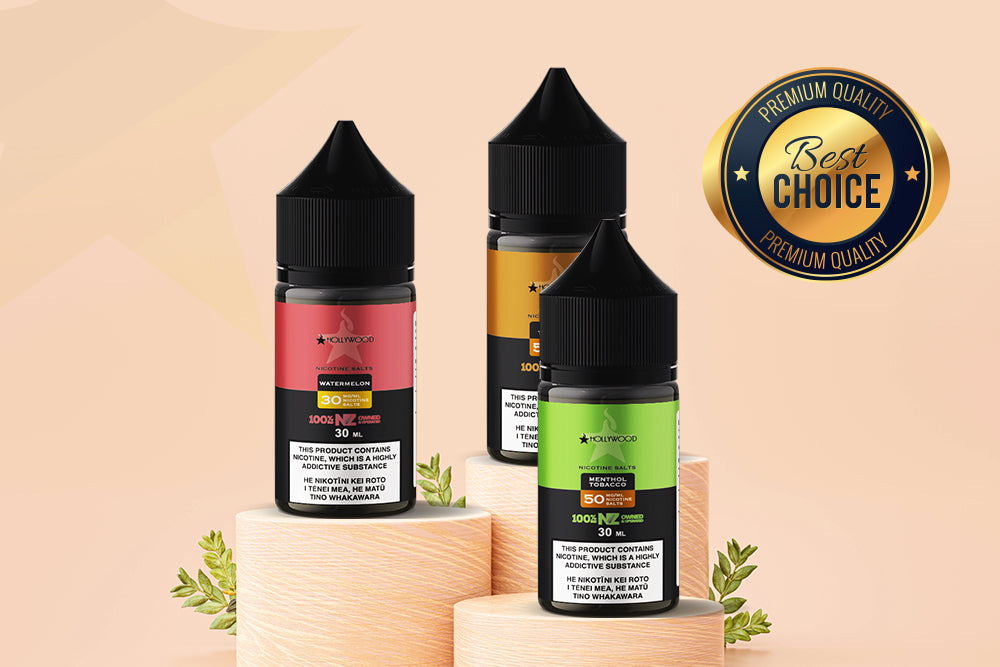 Whether you're an experienced vaper or just embarking on your vaping journey, Hollywood Vape has all you need to enhance your vaping experience. Our vape kits are thoughtfully curated to provide you with dependable, user-friendly, and stylish options. From beginner-friendly starter kits to advanced setups for vaping enthusiasts, we've got it covered.
When you choose Hollywood Vape, you're not only selecting premium vaping products but also supporting a local business that takes pride in contributing to the New Zealand vaping community. Our dedication to quality, innovation, and customer satisfaction makes us your preferred destination for all your vaping requirements.
Discover the Hollywood Vape difference today and savor the finest vaping products, including our USA-made vape juice, that New Zealand has to offer. Join us in our mission to elevate the vaping experience for Kiwis, one satisfying puff at a time.